New York
Giants 2010
Mock Draft
Round
1
Pick 15:
Rolando McClain, LB Alabama
Round
2
Pick 46:
Charles Brown, OT USC
Round
3
Pick 76:
Arthur Jones, DT Syracuse
Round
4
Pick 115:
Ben Tate, RB Auburn
Round
5
Pick 147:
Myron Rolle,
S Florida
State
Round
6
Pick 184:
Walter McFadden, CB Auburn
Round
7
Pick 221:
Leigh Tiffin, K
Alabama
1 Pick 15: Rolando McClain
Rolando McClain is the exact type of person that Jerry Reese looks for in a draft pick. He was the defensive captain for the National Champion Crimson Tide. He also happened to be the defensive play caller during his Junior year. These are traits that Reese covets in a high draft pick. He has the potential to instantly start for the Giants and has a limitless ceiling.
I think this is a must pick for the Giants who have been lacking fire power at linebacker for a few years now and McClain can instantly change the fortunes of the Giants in an instant. I think the Giants will trade up to as high as pick 11 where the Broncos stand as of now to guarantee that they draft McClain. If McClain is drafted, I would take C.J. Spiller, RB Clemson.
Round 2 Pick 46: Charles Brown
Charles
Brown is a converted tight end that has played Offensive Tackle the last four years at USC. He is very athletic lineman for an offensive tackle and relies on his foot quickness, and agility to block rather than raw power. Because of his athleticism and speed, he should be able to develop into a starter at LT for many years to come. I see this as a perfect option to replace David Diehl after one year, moving Diehl back to his natural position at LG. He
has issues
finishing off
blocks consistently
and needs to develop more toughness. The Giants

offensive

line

has finally started to show their age and with the decline of McKenzie and Diehl at the tackles, look for Beatty and an OT in the early rounds of the draft to replace them sooner than later. If Brown is drafted, I would take Sean Lee, LB Penn State.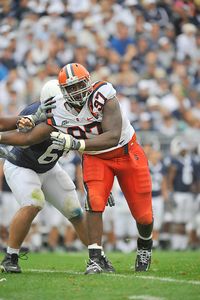 Round 3 Pick 76 Arthur Jones
Arthur Jones has been probably the only bright spot on a pathetic Syracuse Orange football team in 2010. As a four year starter, Jones plays hard on every down no matter what the score and when you play for
Syracuse, it usually means you are getting blown out by

half

time

.
Jones is an aggressive DT with a good motor. Similar to Jay

Alford

, he is a very effective run stuffer but will need to develop is pass rushing skills in his rookie season. He should fit in perfectly with Perry Fewell's system. If Arthur Jones is taken, I would take Brandon Lang, DE Troy.
Round 4 Pick 115 Ben Tate (formerly Greg Hardy, DE Mississippi)
I originally had Greg Hardy taken with this pick but I am now convinced that Jerry Reese wants to add another running back whether Giants fans agree with that assessment or not. Ben Tate has all the tools to come out of this draft as the best overall running back in this draft class. Tate has the potential to be a complete back, including catching the ball out of the backfield, which is something the Giants are in desperate need. The only downside to Tate is the he is a little undersized but that hasn't stopped Bradshaw from becoming a solid running back in the NFL and I dont think it will stop Ben Tate either. If Ben Tate is taken, I would take Aaron Hernandez, TE Florida.
Round 5 Pick 147 Myron Rolle
To me, this is the biggest no brainer of the entire draft. Not only is Myron Rolle one of the smartest players on the draft, he also has fantastic instincts! Taking a year off from the NFL for his studies, Rolle will probably need a little bit of time to acclimate himself back to the pro-style game. Even though he did not perform well in his 40 time, he seems to have a nose for the ball. He is a big hitter and a solid ball hawk. Playing behind Kenny Phillips, Antrel Rolle, and Deon Grant will be of great benefit to him and the Giants. I see Rolle as a similar player to the style of

Darren

Sharper

. He also becomes a safety net for Kenny Phillips if the worse possible scenario happens and he isn't ready for the beginning of the regular season. If Myron Rolle is taken, I would take Myron Lewis, CB Vanderbilt.
Round 6 Pick 184 Walter McFadden
Walter McFadden has some pretty good NFL genes. His brother is Bryant McFadden, who is a 5 year veteran, who currently players for the Arizona Cardinals. McFadden was overlooked going into the NFL combine but came out flying at his pro day in
Auburn. He ran a 4.39 40 and put on a very impressive performance for scouts. One of his two INT's last season happened to come at a huge moment in the

Outback

Bowl

taking it over 100 yards for a touchdown. Take a look for yourself.
http://www.youtube.com/watch?v=hzbvu0u1vTk&feature=player_embedded#. I think this is an great value pick for the Giants if he is still on the board. If Walter McFadden is taken, I would take Gene Atkins, DT Georgia.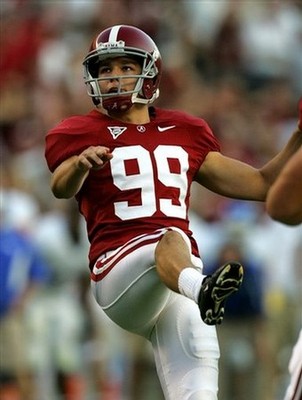 Round 7 Pick
221 Leigh
Tiffin
I start this off by focusing on the current kicker for the

New

York

Giants

. Lawrence Tynes has made one huge field goal in his career. It did happen to be the biggest field goal in New York Giants history along with Matt Bahr's, 1990 field goal against the 49ers. Outside of that one kick, Tynes has been average at best. He seems to be allergic to the endzone on kickoffs and seems to miss half of his field goals under 40 yards, which is absolutely pathetic! Now with that said, Leigh Tiffin, comes from a winning program at
Alabama
and was the best place kicker in College Football last season. One of his biggest career highlights was kicking a 54 yard field goal in his second season as the starting kicker in 2008 at the Chick-fil-A

Bowl

Game

vs. Clemson.
Tiffin
also happens to be
Alabama's all time points leader. I think this happens to be a major need for the Giants. I can't go another season with Lawrence Tynes making me nervous every time he steps onto the field. Let's hope Jerry Reese agrees. If Leigh Tiffin is taken, I would take Brett Swenson, K Michigan State.
New York
Giants 2010
Draft Board
Round By Round
1. Rolando McClain, LB Alabama
2.
C.J. Spiller, RB Clemson (formerly Mike Iupati, OG Idaho
)
3.
Dan Williams, DT Tennessee (formerly C.J. Spiller, RB Clemson
)
4.
Jason Pierre-Paul, DE South Florida (formerly
Sean Weatherspoon, LB Missouri )
5.

Mike Iupati, OG Idaho (formerly

Brain Price, DT UCLA

)
6. Dez Bryant, WR Oklahoma State
** I put this extra spot here because I don't put anything past Jerry Reese and I see him drafting the number 1 player at a position and Dez Bryant falls into that category.
2.
Sean Lee, LB
Penn
State
3. Brian Price, DT UCLA (formerly Rodger Saffold, OT Indiana
)
4.
Lamarr Houston, DT Texas
5.
Cam Thomas, DT North
Carolina
1.
Arthur Jones, DT Syracuse
3.
Akwasi Owusu-Ansah, CB Indiana PA (formerly
Jacoby Ford, WR Clemson
)
4.
Perrish Cox, CB
Oklahoma
State
5. Michael Neal, DT Purdue
1.
Ben Tate, RB Auburn (formerly Greg Hardy,
DE
Mississippi
)
2.
Aaron Hernandez,
TE Florida (formerly, Ben Tate, RB Auburn)
3.
AJ Jefferson, CB
Fresno
State
4.
Matt Tennant, C
Boston
College
5. Mike Johnson, G
Alabama
1.
Myron Rolle,
S
Florida
State
3.
Sam Young, OT Notre Dame
4.
Myron Lewis, CB Vanderbilt
5.
Greg Hardy, DE Mississippi (formerly Darryl Sharpton, LB Miami
)
1.
Walter McFadden, CB Auburn
2. Gene Atkins, DT Georgia
3.
James Starks, RB
Buffalo
4.
Conte Cuttino, RB Stonebrook (formerly Clifton
Geathers,
DE
South Carolina
)
1.
Leigh Tiffin, K Alabama
2. Brett Swenson, K Michigan State
3.
Darrell Stuckey,
S
Kansas
4. Malcolm Sheppard, DT Arkansas
5. Darryl Sharpton, LB Miami (formerly Javarris James, RB Miami)