Saturday, November 12, 2011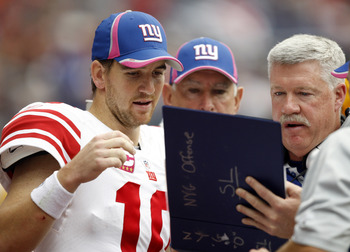 New York Giants (6-2) at San Francisco 49ers (7-1), 4:15 Eastern in Candlestick Park, San Francisco, California
By Ben Kelly - InReeseWeTrust.com 11/12/11
What happened last week?
San Francisco improved to their best record since 1997 in knocking off the Redskins in DC, 19-11. The 49ers are 4-0 in road games and return to the Bay Area for a two game home stretch. Candlestick Park is the site of Jim Harbaugh's lone loss this season, where the Niners fell in overtime in week two to Dallas. San Francisco reeled off six straight wins largely because of its defense, good for second in the NFL in scoring defense and second in defensive turnovers. San Francisco's formula against Washington captured its model throughout the six game win streak: Frank Gore rushing for 100+ yards, efficient play from Alex Smith (one interception during win streak) and disruptive defense (2+ turnovers in seven of eight games). San Francisco holds a five game lead in the NFC West.
San Francisco's weak spot is…
If you had to point a finger at the offense, most would look to long-time starter Alex Smith, except he's having his career year under the protection of John Harbaugh. Smith's rating is sixth in the NFL at 97.3- just one spot behind Eli Manning. Smith's running game is the real force behind his production. Harbaugh's emphasis on beating the opponent at the line of scrimmage has infected the 49ers like it did at Stanford. The 49ers boast a punishing offensive line behind young stalwarts Joe Staley, Anthony Davis and Mike Iupati, who helped Frank Gore set a franchise record with his fifth consecutive 100+ yard game last Sunday. The San Francisco rushing attack has negated the need for a quarterback air show. Smith completed just eleven passes in a week five 48-3 beatdown of Tampa Bay. If its running game stalls, San Francisco has shown capable of scoring big on special teams and defense. In the week one 33-17 victory over Seattle, Ted Ginn recorded both a punt and kick return touchdown, in the same minute.
Which quarterback is better in the two-minute drill?
Both Alex Smith and Eli Manning are experiencing revitalizing seasons on the field. Harbaugh's strong public support of the veteran during the offseason might have given the quarterback the confidence needed to thrive. Smith's 97.3 passer rating and 64.1 completion percentage are significantly higher averages than any of his previous seasons. Most importantly, Smith has led his team to three comeback victories in the second half, including erasing a 20-point second-half deficit in Philadelphia. His 106.7 passer rating in the fourth quarter is among the best in the league. As good as Smith has been, he can't touch Eli Manning in the fourth quarter this season. Manning's own fourth quarter rating- 121.7- is the best in the NFL. Manning directed fourth-quarter game winning drives in each of the Giants' past four wins and used all but the last 15 seconds in Foxboro last week. In games where the rushing attack was stagnant, Manning has performed his best.
Why the Giants will win in San Francisco
Both teams enter this game carrying a lot of momentum as division leaders. The Giants recorded New England's first home loss in twenty attempts, and San Francisco has a six-game win streak. Something has got to give. The Giants' preference for late-game heroics faces a stiffer challenge this week against a 49er defense that's allowed only three fourth quarter touchdowns this season. New York's weakened running game also figures to sputter again against a rush defense allowing only 70.8 yards per game. San Francisco's roving linebackers Patrick Willis and Navorro Bowman are both on pace for more than 160 tackles this season, spearheading a 3-4 defense that's yet to allow a rushing touchdown through eight weeks. On the other end, the Giants' rush defense isn't too hot these days, surrendering an average of 147.3 in the last six games.
How then will the Giants win, you ask? The Giants absolutely must put up early points and force San Francisco to abandon the Frank Gore game plan. Gore might not play at all after suffering an ankle injury last week. Without Gore, the San Francisco offense relies on the shoulder of Alex Smith and Gore's backup, rookie Kendall Hunter. Eli has to sling the football around early to force Smith to keep pace early with the Giants' offense. A limited Gore will sit on the bench as Smith tries to rally the 49ers. Facing a steady barrage of pass rushers from New York's league-leading sackers, expect to see the Alex Smith of old throw a few indecisions into the secondary. Giants win, 28-25.
Posted by

Giants News from a Die Hard Fan
at 8:19 AM
0 comments


Links to this post