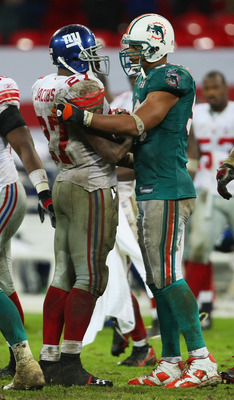 Miami Dolphins (0-6) at New York Giants (4-2), 1 pm Eastern at the Meadowlands in East Rutherford, New Jersey
By Ben Kelly - InReeseWeTrust.com 10/28/11
What happened last week?
The Miami Dolphins honored the 2008 Florida Gators National Championship team at home on Sunday by allowing Tim Tebow to earn a fourth-quarter comeback victory in his first start of the season for the 2-4 Denver Broncos. The Dolphins led 15-0 with as little as three minutes left in the game, but Tebow rallied the Broncos to two touchdown drives sandwiched around a successful onside kick for an overtime win. Dolphins journeyman quarterback Matt Moore threw for 197 yards and a touchdown on 22/33 passing, but his strip-sack in overtime led to the final three Denver points in the 18-15 loss. Miami now owns the NFL's longest current losing streak at nine losses in a row.
Moore is less
Since Chad Henne's shoulder surgery put the quarterback on injured reserve, Miami's hopes to revive their season to playoff contention have flattened. Matt Moore became the starter for an 0-4 team, and he's produced one touchdown drive in the team's last eleven quarters. Miami is averaging 10.5 points per game and less than three hundred total yards in Moore's two starts. Moore's offenses average exactly one hundred yards less per game than in Chad Henne's three full games (287.5 to 387.7). One constant for the Miami offense this season has been turnovers. The Dolphins are yet to play a turnover-free game, and feature -7 turnover ratio. Their four turnovers on defense are the second fewest in the NFL. Matt Moore's last appearance against the Giants came in week one of last season, when he opened for the eventual 2-14 Carolina Panthers. Moore threw three interceptions while completing 42% of his passes in the 31-18 loss to the Giants.
Brandon Jacobs returns
The bye-week has allowed several key Giants a return to the lineup. Brandon Jacobs is healthy again after sitting out the past two games, including one that saw backfield mate Ahmad Bradshaw break out for 104 yards and three touchdowns. Offensive linemen Chris Snee returns after a concussion prevented him from playing against Buffalo. Justin Tuck will probably see the field on Sunday in a limited role, having not played since week three with a groin injury. Rookie corner Prince Amukamara will not make his career debut this week despite limited participation in practice. The Giants need a healthy roster heading into a murderer's row of a second half schedule that features upcoming games with New England, San Francisco, New Orleans and Green Bay.
Predictions
Miami will win if the team can focus on football this week and ignore the team's off-field drama in recent weeks. New York will also have to have a Seattle-type game again and turn the ball over five times in spectacular ways. Miami right now is facing a media offensive speculating on coach Tony Sparano's future, Brandon Marshall's media taunts of the Jets and Giants and Reggie Bush's commenting and reaffirming that his team stinks. Other players in Miami's locker room fired back, saying Bush stinks. Miami is a mess at 0-6. Still, the Giants can't be caught looking ahead in the schedule, despite monster matchups looming. The Dolphins have no advantages over the Giants in this game, having yielded big passing days to good quarterbacks (Tom Brady, Philip Rivers, Matt Schaub) and bad quarterbacks (Tim Tebow, Mark Sanchez), and also for having given up 100+ yards on the ground in five out of six games this year. The Giants will take care of business, through the air, on the ground and by pressuring Matt Moore into turnovers. Miami doesn't have the run game to relieve Moore. Giants win, 28-13.